What can I use my tea towel for?
Tea towels add a touch of colour and spice to your kitchen, but they're so much more than just an aesthetic addition! They're super useful and versatile, read on for some ideas to get you started...
1. Keep hands tidy & dry
Starting with a classic purpose (well, this was a standard in my world growing up at least!)
Keeping a tea towel ready and available in the kitchen, whether hung over the oven door or on a hook on the wall is an easy way to dry your hands after washing at the sink, or to brush them off while cooking. A tip I picked up from a baking school many years ago was to keep one tucked into your apron strings at all times while baking - otherwise you're constantly looking around wondering where you left it!
This purpose isn't just for the kitchen too! The cotton linen blend fibres of our tea towels are super absorbent, meaning they also make stand out hand towels in guest bathrooms.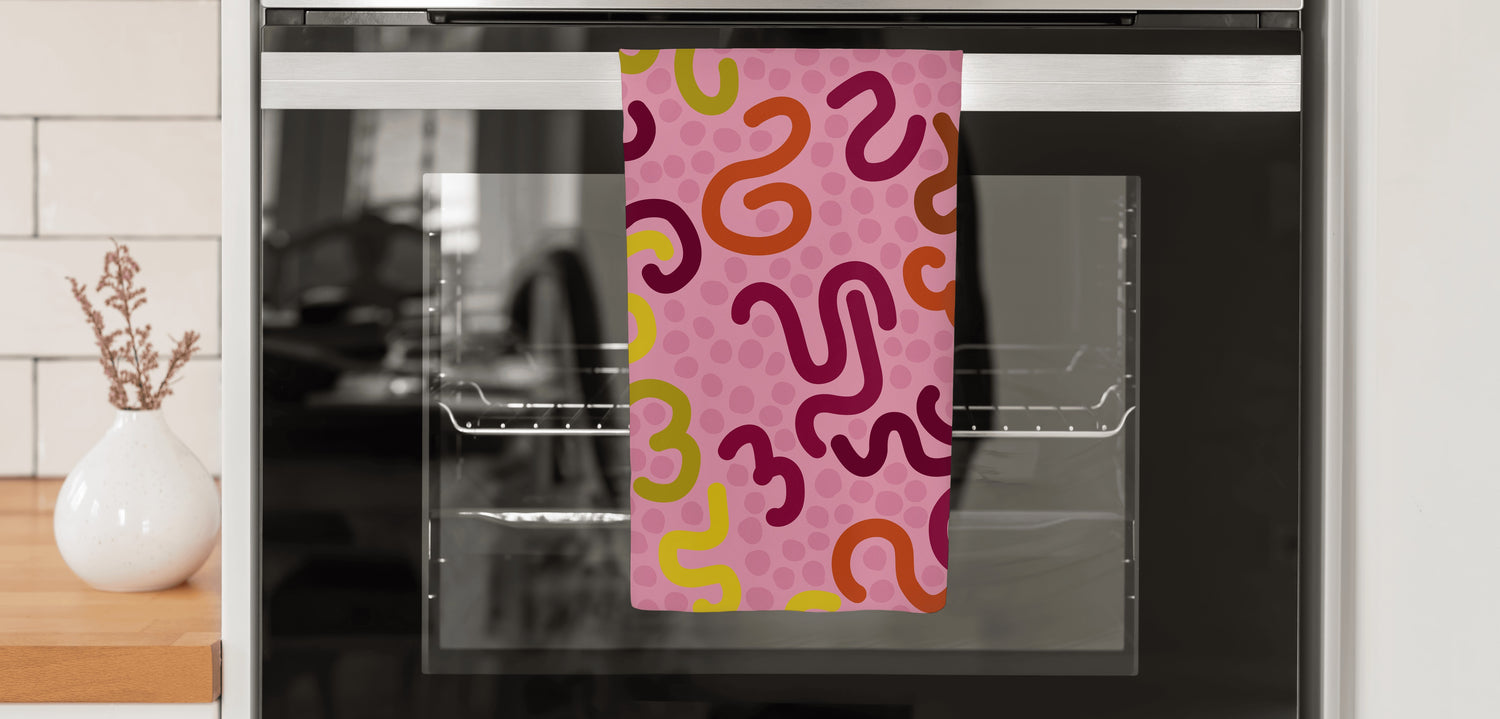 2. Protect hands & surfaces from heat
Fold your tea towel to double thickness and use it to remove hot trays from the oven. You can also place one between hot pans and your tables to project surfaces from heat.
Thinking beyond heat - they also work well to prevent scratches (for example, I have one on my table under a ceramic fruit bowl with an unfinished surface, to prevent the ceramic from damaging the wood!)
3. Line serving trays to catch spills
Ever wondered where the name 'tea' towel came from? Their original purpose was the line tea trays to catch the inevitable drips and spills, and stop the teapot and tea cups from moving about while being carried from room to room.
Keep up the tea tradition, or use your towel to line any tray from pre-dinner snacks to knick-knacks in the bedroom.
4. Dress up your table & picnics
Tea towels can have many uses at the table, from placemats to washable napkins.
Pack them into a picnic basket for use on the go - to wipe your hands as you eat, or spread out on a public picnic table to create a clean surface to lay out your feast.
Go double duty by using your tea towel to first wrap up your lunch or treat box and create a carry handle, then use it as your placemat once you start eating!
5. Make life easier (and safer!) while chopping
Do you find your chopping board annoyingly moves around on your benchtop as you are cutting? Wet a tea towel slightly to make it damp, and then spread it out under your chopping board. Voila, the added friction holds it in place.
6. Create moist heat for home baking
Tea towels keep heat and moisture in, while still allowing aeration. This makes them great help in the proofing process (e.g. cover a bowl of resting dough to keep the warmth in) and while cooking (e.g. place over rolled pastry as you work to stop it from drying out).
If you're especially worried about retaining moisture, such as in a dry climate or air con heavy household, you may want to lightly dampen the tea towel first.
7. And after, keep freshly baked goods warm
Try using a clean, dry tea towel to line a bowl before placing fresh scones, bread rolls, or muffins inside, and then fold over the edges to cover and keep warm until you're ready to start eating.
8. Compliment a kitchen-themed gift
Kitchen themed gifts can be tricky to pick out, especially for your baker friend who already has one of everything! Tea towels are a great idea because you can always utilise an extra one. Make them part of a housewarming or gift set by pairing one with kitchen tools, and matching the colour theme to their style.
Even better - use the tea towel to wrap the rest of the gift!
This works especially well if you are including home baked goods as part of your gift; from a freshly home baked sourdough to indulgent brownies or cookies.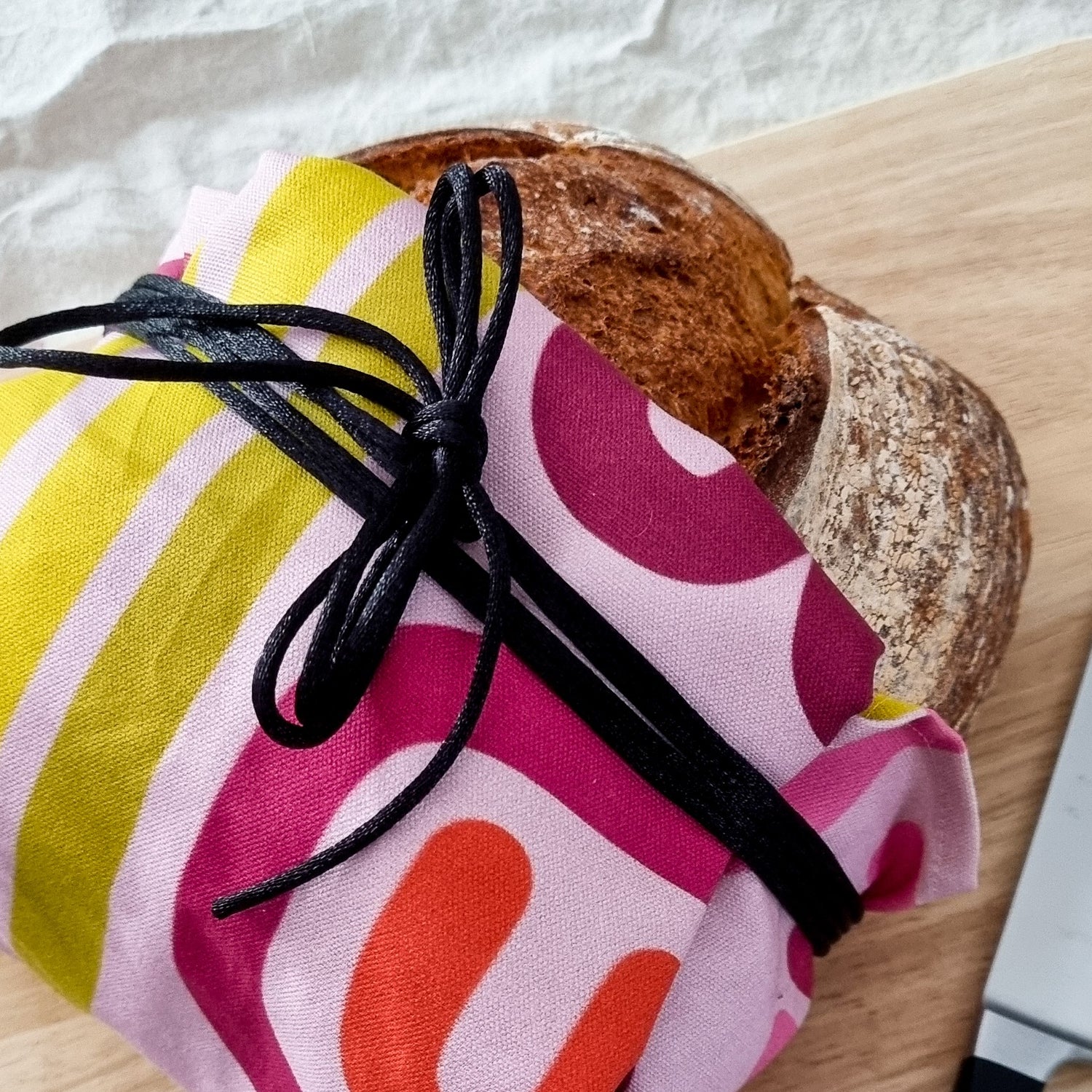 Even better - use the tea towel to wrap the rest of the gift!
This works especially well if you are including home baked goods as part of your gift; from a freshly home baked sourdough to indulgent brownies or cookies.
9. Dry off dishes as you wash up
If you're the type to dry dishes immediately as you wash them to eliminate any water spots (if so, congratulations on your effort!) then cotton linen is soft but absorbent to get dishes dry quickly.
Line your sink's drying rack to capture drips from freshly washed glasses and plates. Or, if you don't have one, create an impromptu drying rack of your own by spreading your tea towel on the counter and placing glasses onto it as you wash.
Tea towels can also be used to line shelves to keep glasses and plates in place, and to absorb any remaining few drips of water.
10. Dry off freshly washed produce, and then keep it dry!
The absorbency of tea towels makes them ideal to soak up excess water from washed produce rather than going through wasteful paper towels - simply place wet produce on your tea towel, and gently roll up to remove the majority of the water.
You can also use your tea towel to line tupperwares containing fresh produce or even the fridge drawer itself to absorb excess condensation which can cause your food to go off faster, to retain flavour and stop unnecessary food waste.
11. Keep bench tops clean while you work
If you're cooking or baking something that you think is likely to cause spills, you can pre-empt by laying down a tea towel. For me, before icing cookies I always lay out a tea towel and place my wire cooking tray on top, so that any excess icing will flow onto the towel itself.
Of course, the catch is please be conscious of if the drips may stain your tea towel! (e.g if you have strong food colouring in the icing, or known-staining ingredients like tomatoes)
If you have a small kitchen like me, this also helps extend your working space as now you can have cookies drying across every surface in the home, without having to worry about scraping dried sugar off every surface as well!